IMPORTANT: As part of the online banking upgrade, statements from

 

prior

 

to November 5th will not be available until February, 2021.  If you do not have your statements from prior to November 5th printed/saved, and you need access to them now, please contact us by emailing

 

statements@bank-partners.ru

 

with the dates of which statements you will need.  Please note that it may take up to two days to process your request and we will only send statements to the address or email on file.  We apologize for any inconvenience this may cause. Should you need immediate assistance, please call us at 540-899-2265.
We are always looking for ways to make it more convenient for you to bank with us. That's why we are excited to provide you with a whole new online banking experience! With more tools to help you manage your money⁠, let us provide you with everything you need to allow your banking to keep up with you.
The upgrade will include many new features and enhancements to improve the user experience including:
NEW - Interface Redesign: Responsive design helps ensure the online banking displays data clearly at virtually any screen size or resolution.
Updated Login Pages: All sign-in activity will now take place on a single page.
NEW - Updated Security Options: Upon sign-in, the system will now prompt you to choose between answering a security question or generating and entering a passcode.
Improved Integration of the Bill Pay Application: You will be able to select Bill Pay from the homepage.
NEW - Improved Control of What's Displayed on the Home Page: You can easily specify nicknames for accounts, which accounts you would like to show or hide and the order in which visible accounts appear.
Redesigned Transaction List: The redesigned transaction list presents transaction information in an easily readable format. Icons clearly identify transactions that have posted and transactions that are pending. You can sort transactions by date, description and amount.
Improved Transfer Scheduling Experience: You will be able to access the express transfer and scheduled transfer features within the same workflow, enabling quicker initiation of one-time and recurring transfers.
Updated Profile Management: You can view and update your password, security challenge questions, telephone number, electronic statement and mobile banking enrollment by clicking the Profile menu option in the utility navigation area.
NEW - Secure Email Feature: You can open the Secure Email feature from the utility navigation area.
NEW - Budgeting Feature: Budgeting Partner helps you manage your finances and aggregate accounts to view your complete financial picture in one place.
NEW - Debit Card Controls: Card Controls allow you to turn your Virginia Partners Bank debit card off and on again within online banking and the mobile app. When you turn your card off, it can't be used for purchases, ATM withdrawals, or recurring transactions. If you turn off a card, you can turn it on again at any time.
 
Check out what some of the new Online Banking enhancements will look like:
The Transaction Detail screen (below) allows you to add tags, notes, and even upload an image - such as a receipt.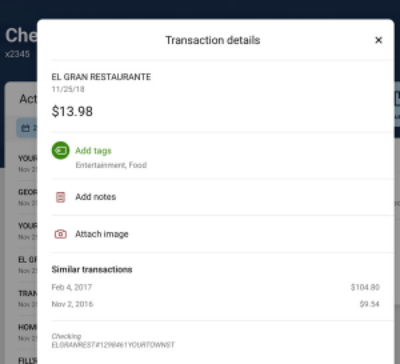 The Transaction List view (below) provides a quick snapshot of your account activity.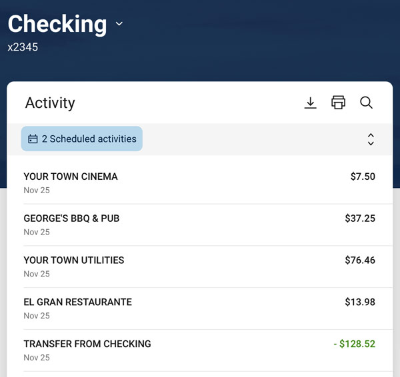 The new Dashboard (below) gives a quick overview of any checking, savings, and loan accounts. You can also customize your dashboard by arranging account tiles where they make sense for you or by adding account nicknames!